Nordic skiing
CROSS-COUNTRY SKIS AND SKATING
Cross-country skiing appeared in the Scandinavian countries in ancient times and is practiced on long, narrow skis. If it was an excellent way to get around in the snow, Nordic skiing is today much more than a leisure activity. Originally, Nordic skiing was practiced with a single pole and on laminated wooden skis up to 4 meters in length. Norway, Finland, Northern Europe, Canada, Alaska, the countries of the Far North have all adopted this sporting discipline. The first official competition was organized in 1843 in Norway. But it was not until 1924 that cross-country skiing became an Olympic discipline.
This endurance sport is practiced today in classic(not alternative), skating, but also in combined or biathlon. Nordic skiing allows you to get away from it all on plateaus or hilly terrain in the heart of a rich and wild nature. Skiing known as "skating" or "skating technique" appeared in the 80s.
Today, cross-country skiing is a sport in its own right at the Olympic Games with different disciplines: the sprint (alone or in teams), the 15 or 10 km, the mass start and the relay. The biggest brands specialising in board sports are constantly innovating each season to offer classic skis or skatings that are both light and high-performance.
NORDIC SKIING: LIGHTNESS AND PRECISION
The FISCHER MY STYLE MY STYLE ski is a women's Nordic ski which is ideal for long walks on the plateaus. A true partner for committed and ambitious women skiers, it will meet their expectations on all types of terrain. Designed for classic cross-country skiing, these FISCHER skis offer good stability. Combining gliding comfort and performance, they provide good power transmission to get back on the rails and enjoy excellent gliding properties.
X-IUM SKATING ROSSIGNOL cross-country skis will seduce skiers looking for competition and performance. These high-end skis have a double guide groove that optimizes stability and trajectory. Ultra light, they offer a fluid glide to gain speed and beat the times. Designed to boost your performance, they maximize power transmission and guarantee a professional glide for your next outings.
As for the TWIN SKIN RACE FISCHER Nordic skis, they have been thought and designed for classic skiing. Equipped with a World Cup Universal sole, they offer skiing comfort and performance worthy of a competition ski. For all the initiates, this model of cross-country ski has a grip zone to reduce friction during the regaining of support.
Finally, the ROSSIGNOL DELTA COURSE Nordic ski brings lightness, performance and precision to every movement. Very resistant, they have the same finishes as World Cup skis. Thanks to their honeycomb and carbon core, they will allow you to gain in agility and maneuverability.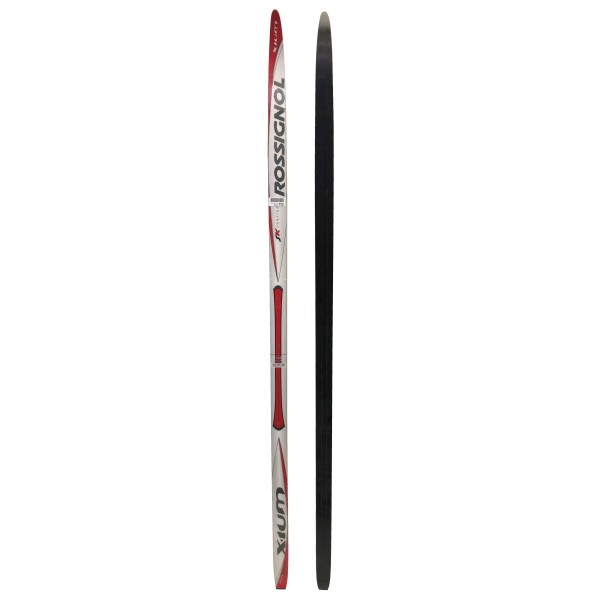 Junior Nordic ski X-IUM SKATING SK of the brand ROSSIGNOL.
A powerful and efficient ski.