HIKING STICK
HIKING POLES: THE DETAILS THAT MAKE A DIFFERENCE
Often neglected or forgotten accessories, hiking poles are nevertheless an important ally during your hikes and should be part of your hiking equipment. Just like all outdoor equipment, hiking poles have also evolved enormously since their creation, they are no longer bulky because they can be folded, they are no longer heavy because they are now made of carbon or other ultra-light materials. In short, hiking poles are now super practical, modern and indispensable.
Hiking poles have several advantages: They offer you stability and balance throughout your hike and the various obstacles you may encounter. They help to reduce muscle fatigue and reduce the load on the joints by distributing the weight better and using your arms as support. But it also develops your upper body and breathing. 
There are several types of walking poles: folding, telescopic, single-piece, ultra-light, ultra-thin, large or small.... Each type of hiking pole has its own preferred practice! Folding poles are more often used for trekking because they are easy to carry and very light. Telescopic trekking poles are also very practical as you can adjust the size of the pole to suit your needs, both up and down. Finally, the single-piece poles are designed for Nordic walking as they are more robust.
KOMPERDELL: PIONEER OF THE HIKING POLE
This Austrian brand, founded in 1922, is without a doubt the reference brand when it comes to ski poles and hiking poles. Its constant innovation allowed it to create the very first metal pole in the 50's and a few years later, the very first carbon pole. Skioccas offers you the CARBON C4 TRAILSTICK mixed hiking poles from KOMPERDELL. A pole that combines lightness and ease of use. Telescopic and ultra resistant it will follow you in all your adventures.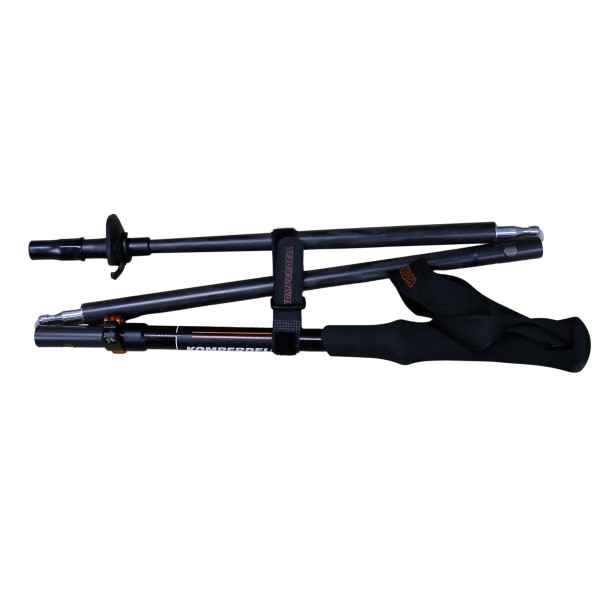 Brand:
KOMPERDELL CARBON C4 TRAILSTICK mixed hiking poles.
Combining lightness and practicality, optimize your next mountain getaways.