Children's Snowboard Boots
WHY BUY SECOND HAND SNOWBOARD BOOTS FOR KIDS
Buying second hand snowboard equipment for children allows you to give them their own equipment and save money at the same time! We know that they grow up fast and that it is often necessary to change equipment and that can be expensive! That's why Ski Occas offers you all the snowboarding equipment you need for your kids and teenagers. 
Snowboarding equipment at low prices but without compromising  quality or safety! All our products go through the hands of our experts! With several safety points checked, all children's snowboard boots are checked, repaired if necessary and disinfected. So enjoy almost new equipment that retains all its technical performance.
SECOND HAND CHILDREN'S SNOWBOARD BOOTS
Choose a pair of children's snowboard boots from among the leading snowboard brands. Whatever brand you choose, Burton, Salomon or Head, the best technologies of snowboard boots for adults are now adapted for children's snowboard boots. The boots are gradually shaped to fit your child's feet and the lacing systems are becoming more and more sophisticated to make the snowboard boots easier to tighten. With soft soles that prevent arch pain and great insulation to keep their feet dry and warm all day, children's snowboard boots are totally adapted to their small morphology.
And to choose your next pair of boots there are several criteria to take into account! Firstly, the level of your child. If your child decides to take up snowboarding this winter, he or she will discover the first sensations of sliding. He will then need a pair of soft boots. Lighter and more comfortable, they will give him enough flex to gain in manoeuvrability and comfort during his first outings. The more comfortable he is in his boots, the more he can concentrate on learning to snowboard. 
For juniors who have been snowboarding for several seasons, a stiffer children's snowboard boot will be more suitable. Looking for performance, speed and precision, they will need a boot with more support to get the best energy transfer. A stiffer boot with more support will allow for more precise turns. So whether it's on the piste or for their first off-piste ride, rigid children's snowboard boots are ideal.
The level of your child is therefore one of the most important criteria to take into account, but beware of his practice! If your child is more interested in snowpark sessions than in big powdery areas despite a very good level, he will still need a light snowboard boot with flex in order to be totally free in his movements without being too heavy to succeed in his first tricks. 
LACING SYSTEMS FOR CHILDREN'S SNOWBOARD BOOTS
There are several lacing systems for snowboard boots. Most children's snowboard boots are now equipped with easy-to-use fasteners so that they can quickly become independent in their preparation! Choose an easy lacing system such as cable lacing or Boa lacing which has a knob to tighten the whole boot in one go! 
COMPLETE YOUR SNOWBOARD EQUIPMENT
Now that he is equipped with snowboard boots, offer him a brand new second-hand ski suit! Discover a wide range of second-hand ski pant and ski jackets for children from the biggest textile brands, Poivre Blanc, Quicksilver or even Luhta and Wed'ze. And for added safety, offer him a ski helmet and a back protector.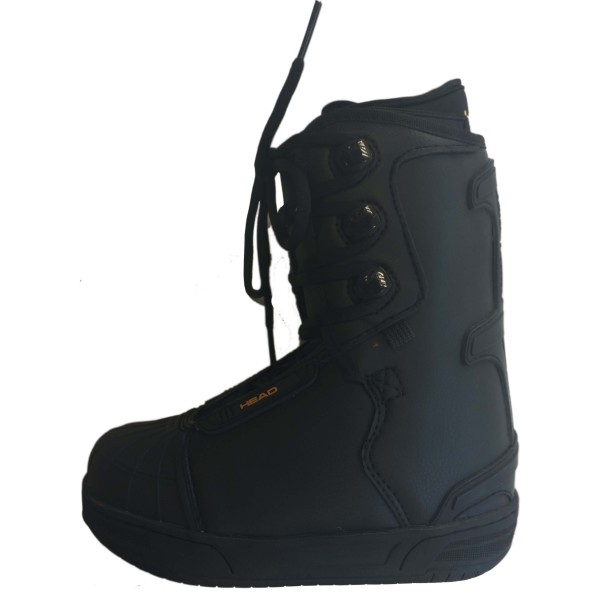 SNOWBOARD BOOTS 450 JR RC for juniors from HEAD Brand
Perfect for a start.